---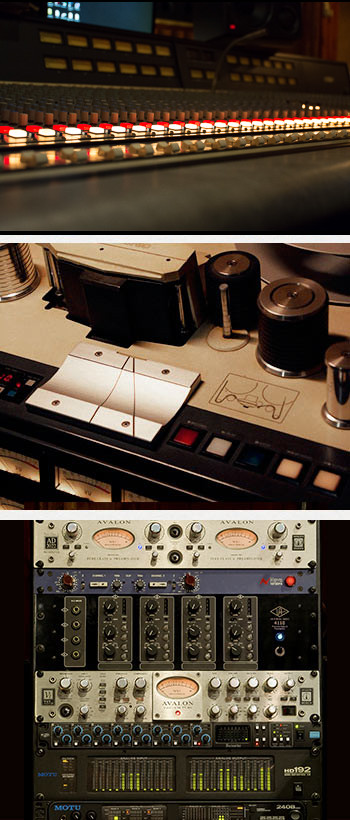 Desk
DDA AMR24 (84 inputs during mixdown)
DAW Controllers:
Icon Platform M+, Platform X+, Platform B+, D2 (x2)
Outboard Preamps – Voice Channels – D.I.s
Neve 1073 DPA Stereo Preamplifier
Avalon AD2022 Dual Pure Class A Preamplifier
Line Audio Design 8MP 8-Channel Class A Preamplifier
Triton FetHead High-end in-line Microphone Preamp x 2
Avalon U5 Pure Class A High Voltage D.I.
Bobby's Designs Stereo Tube D.I.
Palmer Pan 04 2-channel Passive D.I.
Bespeco DBX 40A 4-Channel D.I.
Palmer DACAPPO Reamplification Box
A/D D/A Converters
Antelope Orion 32 (32 in/out)
Recorders
Otari MΧ-80-24/32H 24-track analog tape recorder (2″ reels at 15-30 ips)
24-bit/32-bit (float)/ 64-bit hard disk recording up to 192kHz (PCs with Antelope Orion 32 (Studio A), MOTU HD192 (Studio B))
Pioneer RT-909 Stereo Tape Recorder (1/4″ reels at 3,75-7,5 ips)
Alesis ADAT 8-track digital recorder
Sony 55ES DAT
Technics RS-TR515 Double Cassette Deck
Atari 1040 STf
---
Microphones
Advanced Audio CK47
AKG C414 B/XLS ST x 2 (Matched Stereo Pair), C451E/CK1 x 2, C535, C408, D202, D222, D112
Beyerdynamic M201TG, M67, Soundstar, MPC67-RC-SW Boundary Microphone
CAD Equitek E200, E100
Circuit Bent Modified Vintage Telephone Microphone Mod XLR Studio Lo-Fi Mic
Electrovoice RE-20
Golden Age R1 MK2 Ribbon
Grundig GDSM202 Stereo Dynamic Microphone Set (vintage)
Line Audio Design CM3 x 2, OM1 x 2
Microtech Gefell MK102 x 2 (vintage modified)
Neumann U87Ai x 2, KM184
NoHype Audio LRM-2 x 2 (Matched Stereo Pair)
Rode NT-2 x 2
Sennheiser MD441N
Shure SM7B, SM57 x 3
Subkick (DIY)
Telefunken TD200 (vintage)
---
Monitoring
Dynaudio M2 3-way monitoring (driven by Amcron Crown Macro Reference poweramp)
Klein & Hummel O 300 with Klein & Hummel O 800 Sub
KRK V6 II with KRK V12 Sub
Avantone Mixcubes
---
Synchronisers
J.L.Cooper Electronics PPS-2
Midiman Syncman Plus
---
Outboard Effect Units
Manley Massive Passive Tube Stereo Equalizer
Ensoniq Dp-Pro 24-bit Effects Processor
Lexicon LXP-1 Reverb
Sony MP5 Multi Processor
Yamaha SPX-90 Reverb
Roland RE-501 Tape Chorus / Echo
Digitech DSP-256 Multi Effects Processor
Korg DVP-1 Digital Voice Processor
Korg DRV-3000 Digital Reverb
Korg DRV-1000 Digital Reverb
Korg Kaoss Pad
Colorsound Tube Spring Reverb
Behringer Ultrafex Pro Multiband Sound Enhancer / Exciter
Zoom 9030 Advanced Instrument Effects Processor
Klark Teknik KT-2A Leveling Amplifier
Alesis M-EQ230 Dual 1/3 Octave Precision Equalizer
Alesis 3630 Dual RMS/peak Compressor Limiter with Gate
Symetrix 425 Dual Compressor / Limiter / Expander
Art CS2 Dual Compressor / Limiter / Gate
BOSS RCL-10 Compressor / Limiter x 2
Rocktron 140A System One Encode-Decode (4-channel Dolby A)
---
MIDI
Studiologic VMK 188-plus Mother Keyboard
Arturia KeyStep MIDI Controller
Roland D-10 Synthesizer
Roland Sound Canvas Sound Module
Roland A-880 8-in/8-out MIDI Patcher/Mixer
Korg TR-Rack Expanded Access Module
Midiman USB Midisport 4X4
plus an amazing collection of virtual instruments and sampled sounds.
---
Musical Instruments (Standard Studio Gear)
Grand Piano:
Fazioli F212 semi-concert Grand Piano (2001)
Drum Kit:
Gabriel Maple Custom Recording Series Drums
20″ Bass Drum
14″ x 5.5″ Snare Drum
10″ Hi Tom
12″ Low Tom
14″ Floor Tom
Cymbals:
Paiste 2002 10″ Splash
Paiste 2002 Sound Edge 14″ Hi-hat
Paiste 2002 16″ Crash
Paiste 2002 20″ Medium Ride
Percussion:
Bongos, Tabla, Tambourines, Thunder, Rainstick
Guitars:
Ovation Custom Legend electro-acoustic (1979)
Takamine G330S Acoustic (1999)
Yamaha G255 S-II Classical (1983)
Washburn Montgomery Hollow Body (1997)
Guitar Amplifiers:  
Fender Princeton Chorus 2×12″(130W)
Marshall Valvestate 8080 1×12″ (80W)
Bass Amplifiers:
Laney DP-150 (150W)
Peavey Standard (80W)
SWR 4X10″ Cabinet
Laney 4×10″ Cabinet
---
Musical Instruments (On Demand)
Guitars etc:
Fender Mustang (1964)
Eko Explorer Hollowbody (Vox Pickups) (1971)
Fender 50's Roadworn Telecaster (2010)
Silvertone Lapsteel (1946)
Fender Dreadnought Acoustic (2002)
Fender Jazz Bass Standard (1996)
Grandson SG Bass (Ibanez Made In Japan) (1972)
Epiphone Les Paul Ukulele
Guitar Amps:
Vox AC30 Handwired Head 30/15W
Fender Blackface Super Reverb 4×10″ (1964 – ALL ORIGINAL)
Mesa Boogie 2×12″ Rectifier Cabinet
…and lots of stompboxes…
Snares:
14″x 5″ Ludwig Supraphonic Snare (1969)
Percusssion:
Glockenspiel, Shakers, Sleighbell, Djebe and many more weird and wonderful…
View Artracks Exclusive Hire